The Open University (UT) hosted a visit from representatives of Deakin University, Australia, and Lancaster University, England, on Friday, October 13 2023, at the meeting room of the Indonesia Network Learning Development Unit (UPPDJI), better known as the Indonesia Cyber Education (ICE) Institute. UT's Vice Rector for Research, Innovation, Partnership, and Business, Rahmat Budiman, S.S., M.Hum., Ph.D., warmly received the guests, along with the Vice Dean I of FKIP-UT, ICE Institute representatives, and the Head of the Subdirectorate of Cooperation and International Affairs.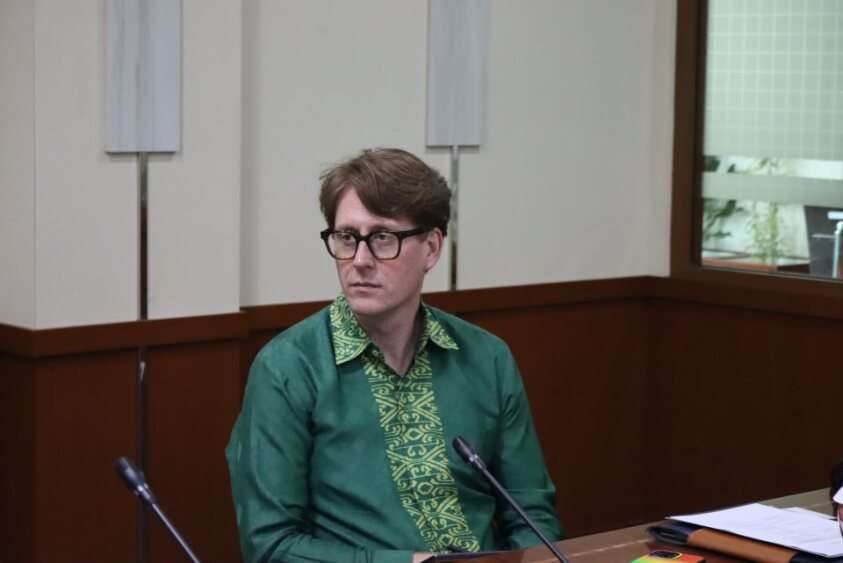 John Bolton, the Executive Director for Global Branch Campuses (Indonesia and India) and Senior Strategic Advisor of Deakin University, conveyed that the purpose of the visit was to get familiar with UT as a pioneer of open and distance higher education in Indonesia and to learn about the ICE Institute. During the discussion, he inquired about information related to the management of distance education, the production of printed and digital teaching materials, the development of the number of students, and the alignment of student competencies with industry. He also mentioned that Deakin University is seeking permission to open a Deakin University campus in Indonesia, which will be located in Bandung, West Java.
Citta Sellepan as Advisor of Deakin and Lancaster University Indonesia, explained that Deakin University and Lancaster University will open the first joint campus in Indonesia. She explained that licensing for the opening of foreign campuses in Indonesia is quite challenging due to numerous government regulations. Rahmat Budiman, Ph.D. responded positively to the joint-campus opening plan of the two prestigious universities. He also expressed the hope that UT could further tighten cooperation with Deakin University and Lancaster University in the form of staff exchange, further studies for UT lecturers there, as well as collaboration in research and publications. To conclude the visit, delegates from Deakin University and Lancaster University had the opportunity for a friendly interaction and visited the UT Multimedia Teaching Material Production Center.